Posts Tagged 'Die Cut machine review'
08
Nov
Hi All
A few people I know are considering purchasing a die-cut machine and have asked me about the different options available.  What's best for you will depend on what you need it for and who is going to use it.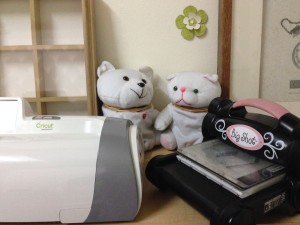 Basically there are two types of machines – manual and electronic.  I have both – A Sizzix Big Shot (manual) and a Cricut Expression 2 (Electronic).  I like both machines and I use both.  If it came down to choosing I would probably choose the Sizzix because it is easy to use, can cut all sorts of stuff easily and it also embosses.  But then I am a hobbyist and I don have a whole heap of stuff to cut all the time.  I do like my Cricut, in particular the idea that I can re-size my images before cutting.
So here goes :-
Manual machines – the  most popular ones are Sizzix Bigshot, Cuttlebug and Spellbinders.  I particularly like the Big Shot because it comes with a platform that allows you t easily use different sizes of dies.  The others can do the same but I think you need additional pieces.   The Cuttlebug folds up very small and cute and if you have to carry it around, then this is a good option for you.  I think the Spellbinders Grand Calibur has a wider opening so it can accommodate wider dies and embossing folders but you can't use the thicker Sizzix Bigz dies in it.  This means also you probably can't use the L Letterpress from Lifestyle Crafts in it.   The Big Shot Pro is a bigger version of the Big Shot and can accommodate the larger size dies and embossing folders.  The Sizzix Tim Holtz version is a manual machine but with an electronic switch so instead of rolling it though the machine, you simple press the switch.
The great thing about the manual machine is that it is easy to use, are very sturdy so they can last a long time.  You can Emboss on them or do letter press.  Your kids can use it without you being afraid it will break.  It cuts through several layers of paper an fabric and more easily cuts leather and chipboard or cardboard (with the Bigz die).    The bad thing about a manual machine is that you have to purchase the individual dies which only cut that one size.
Electronic Machines – the most popular brand is the Cricut (original, Expression, Express 2 and Mini) but there are several other brands out there that are receiving rave reviews.  Basically you buy a cartridge with several images which you can use on the machine or with software.  Also, you can buy single images from some companies.  The great thing about an electronic machine is that it allows you to re-size your image and per-image cost is a lot less.  Some brands like the Sillhoutte Cameo allow you to import sag file from other sources so you don't have to keep buying cartridges.
As I mentioned above, I have a Cricut Expression and I really like it but there are some issues I am concerned about.  I use the Craft Room and I link my cartridges to this online software – this means I don't have to put my cartridge in each time.  But there is no de-linking option so I can't test out a cartridge and give it to a friend or what happens if I want to sell my machine?  If the internet goes down I can't use the Craft Room and have to revert to the machine's screen.  The Expression 2 is not hard to use but I think the older ones are much more difficult.  In addition, the Mini can only be used online with craft room.  I also expected them to add more functionality to the Craft Room software but I haven't seen much changes to it.  On the plus size the real estate on the Expression 2 is 12 by 12 (and you can go up to 12 by 24) and the the mini is 8 ½ by 11.    If I had to make the choice now, I would probably get the Silhoutte Cameo instead.
Brother just came out with a new machine called "scan n cut" which looks pretty cool and allows you to scan and cut all sorts of things including your own drawings.  It also comes with a bunch of images.  The nice thing about it is that you can scan and cut around images.  Instead of buying a die and a stamp together, you can stamp and cut around your stamped images.  How cool is that?  Price is still pretty high though ( $400) so lets hope it comes down
So what about cost?  All machines cost – you need to consider not just the cost of the machine but also the ongoing cost of dies and supplies.  Manual machines have a lower upfront cost but then a higher per-image cost thereafter.  The main supply is the cutting pads which last a pretty long time (my first one lasted 3 years).  Electronic machines have a higher initial cost and depending on which machine you purchase, can have high or low ongoing costs.  Even if you don't buy images, you still have to invest in sticky mats and new blades over time.
If you can't make a choice now but want some additional tools, buy some punches – I recommend  scallops, circles, tags, borders, butterflies and flowers.
What machine should you buy?
I think it depends on your situation -what are you going to use it for and how often?  If you like the flexibility of cutting different materials and the ability to emboss, then go with the manual machine.  If you have kids below 11 who are likely to use the machine – go with a manual machine.
If you are a hobbyist who wants to do larger cuts for home decor and boxes etc., then an electronic machine may be better.  The variety of images on one cartridge is useful.  A Silhouette Cameo or Expression 2 can offer up to 12 by 24 cutting space.
If you will use it occasionally to make items for friends and family (birthday cards etc.) then a manual machine may be better because of the versatility it offers.
If it is something you will use 2-3 times a week, then the variety of image an electronic machine offers will be good.
Here is a card I made using my Big Shot –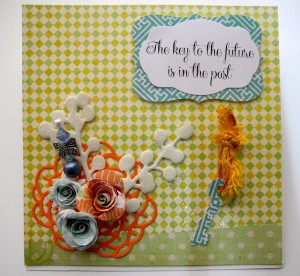 Here is a card I made using my Cricut Expression 2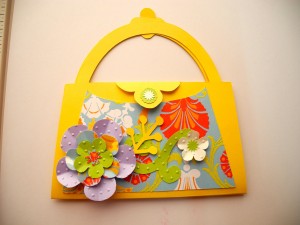 And finally, here is a card I made using no machine – I just used a punch.
Tags: craft gifts, Cricut, Cuttlebug, Die Cut machine review, die-cut machine, Expression 2, Scan N Cut, Silhouette Cameo, Sizzix Big Shot, which die-cut machine should I buy?